THE OWL WHO CAME FOR CHRISTMAS
Leicester's Curve theatre has announced the title of its 2023 Christmas show for children and their families, a world-premiere made at Curve production and co-produced with Norwell Lapley Productions of The Owl Who Came For Christmas.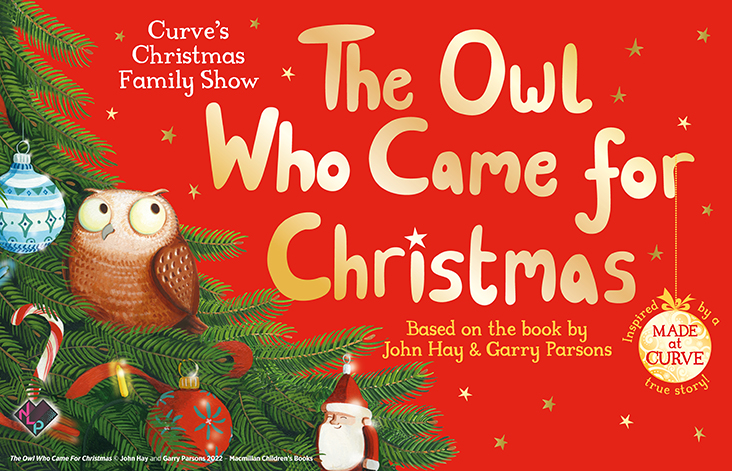 Based on the picture book by John Hay with illustrations by Garry Parsons, and published by Macmillan Children's Books, the heart-warming festive show will run in Curve's Studio Theatre from Saturday 2 December 2023 to Sunday 31 December 2023.
The Owl Who Came For Christmas will be co-produced with  NLP and adapted for the stage by writer, performer and Curve Creative Programmes Practitioner Chandni Mistry, whose credits include Ruka (part of Finding Home: Leicester's Ugandan Asian Story at 50) and Roti Moon. The production will be directed by Curve's Artist Development and New Work Producer, Cara Nolan, who has recently directed the Made at Curve and De Montfort University co-production of Jim Cartwright's Road.
The show will be performed by a cast of actor-musicians, with open auditions set to be held in June. To find out more and express an interest in joining the production, email audititions@curvetheatre.co.uk
Inspired by a true story of the real Rosie the Owl who lost her way, see how a loving family helped save Rosie, the tiny owl who really did come for Christmas, and return her to her forest home.
The family carried the tree to their car and tied it to the roof.
Rosie felt the car moving and heard the sounds of the city.
"Where am I?" wondered Rosie. "This is not my forest."
When a family are putting up their new Christmas tree, hidden amongst the decorations is a secret visitor, snuggled in the branches.
'Mum, look! . . .  There's a bauble moving in the tree!'
Speaking about the production, Curve's Chief Executive Chris Stafford and Artistic Director Nikolai Foster said: "We always look forward to our Made at Curve family Christmas productions and we're thrilled to be creating the first stage version of John Hay and Garry Parsons' The Owl Who Came For Christmas. "Hay and Parsons' story highlights themes of caring for others in need, the power of the natural world and protecting the environment around us. It's a truly magical treat for the festive time and a great way to introduce young imaginations to the power of theatre. Like many of our Made at Curve shows, we will ensure this production is made with sustainability in mind, carefully and creatively reusing existing set pieces where possible and ensuring any new items will have a future life. We hope Rosie the Owl will approve of this and her new home at Curve for Christmas. "Helmed by our fantastic Team Curve members writer Chandni Mistry and director Cara Nolan, this inventive, charming and fun show is sure to be a hoot this Christmas!"
Writer Chandni Mistry said: "The Owl Who Came For Christmas is such a lovely story, and ever since I first read the book, I've been bursting with ideas on how we can bring this tale to magical life on stage for children and families. Expect a lot of creativity, a lot of fun, and a lot of festive cheer!"
Inspired by a true story and first published by Macmillan Children's Books in 2022, the Made at Curve production of The Owl Who Came For Christmas will be suitable for children aged 3+.
Tickets for The Owl Who Came For Christmas at Curve will be on sale soon.
To find out more, visit WWW.CURVEONLINE.CO.UK
call 0116 242 3595 or visit Curve's Box Office in person.